Collection: Fever Thermometers In Canada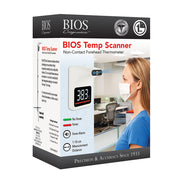 BIOS Temp Scanner Non-Contact Forehead Thermometer
Regular price

$99.99

Sale price

$99.99

Regular price

Unit price

per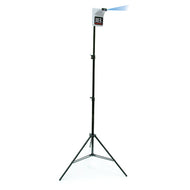 Telescopic Stand for 285DI Non-Contact Forehead Thermometer
Regular price

$49.99

Sale price

$49.99

Regular price

Unit price

per
BIOS Medical manufactures non-contact and contact digital thermometers for fever. These thermometers can be used on the forehead or in the armpit, mouth, ear, or rectum. We also manufacture an ovulation thermometer in Canada. All fever thermometers are Health Canada approved. 
WHAT NON-CONTACT FEVER THERMOMETERS ARE AVAILABLE? 
As a fever thermometers manufacturer, BIOS Medical offers two types of non-contact fever thermometers. The handheld Non-Contact Forehead Thermometer and the BIOS Temp Scanner.
The BIOS Temp Scanner is a commercial-sized thermometer and can be mounted on a stand or a wall. It takes temperature readings in one second from up to ten centimeters away. The BIOS Temp Scanner is ideal for taking the temperature of staff, factory employees, students, daycare children or patients.
MORE ABOUT THE OVULATION DIGITAL FEVER THERMOMETER 
The BIOS Diagnostics™ Ovulation Digital Thermometer helps you track ovulation with high accuracy temperature, to 100th of a Celsius degree. For optimum accuracy, your basal temperature should be taken at the same time every morning upon waking.
Included in your purchase of the BIOS Diagnostics™ Ovulation Digital Thermometer is a 6-month ovulation tracking chart. Keep both at your bedside for convenience.   
WHAT CONTACT FEVER THERMOMETERS ARE AVAILABLE? 
Contact fever thermometers manufactured by BIOS Medical for armpit, mouth or rectum use include the following:
2-Second Fever Thermometer
5-Second Jumbo Thermometer
8-Second Jumbo Flex Thermometer
10-Second Flex Tip Thermometer
If you prefer to use ear thermometers, BIOS Medical offers a 1-Second Ear Thermometer as well as the Precision Temp Digital Ear Thermometer with App. The Precision Temp ear thermometer accurately tracks the temperature of each family member. Then connects via Bluetooth to a free Precision Temp App.  
Although most BIOS Medical fever thermometers are digital, we do offer a mercury-free glass thermometer.
Top tips:
The most accurate readings for infants three months and younger, and children up to 3-years, are rectal temperatures.
Armpit temperature readings are the least accurate.
Buy two digital thermometers and label the one for oral use and the other for rectal use. Never use the same thermometer for oral and rectal measurements. 
BIOS Medical is a fever thermometers manufacturer in Canada. We accept payment via PayPal, GPay and ShopPay. Buy fever thermometers online from BIOS Medical today.