Collection: Bathroom Safety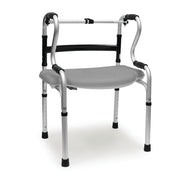 5-in-1 Mobility & Bathroom Aid
Regular price

$288.99

Sale price

$288.99

Regular price

Unit price

per
Bathroom safety is essential as bathrooms have the potential to cause trips, slips and falls. Using bathroom safety equipment and products can prevent injuries in the bathroom. BIOS Medical sells bathroom safety products in Canada.
BATHROOM SAFETY PRODUCTS AND EQUIPMENT 
Assistive equipment and bathroom safety products are manufactured to keep you safe and independent. Find out about some of our bathroom safety products and equipment.
The No-Slip Therapy Bath Mat offers full tub coverage and has over two hundred suction cups for a secure grip. It has an antimicrobial agent to prevent harmful bacteria from growing. Made from latex, the no-slip bathroom safety therapy bathmat is BPA and PVC free. It has two drain cut-outs on each side and one in the centre. The bathmat can be used in the shower for complete bathroom safety and is machine washable.
If you like to travel or don't want multiple devices around the home, then the 5-in-1 Mobility & Bathroom Aid is just what you need. It offers a folding walker, raised toilet seat, toilet seat frame, commode and shower seat, all fitting into a black tote bag. Assembly is tool-free. The walker has a lightweight aluminum frame and weighs only 4.6 kilograms. 
HEALTH CANADA BATHROOM SAFETY CHECKLIST 
The Public Health Agency of Canada has a bathroom safety checklist to promote bathroom safety at home for mature adults. We highlight a few questions for bathroom safety:
Do you have a night light in the bathroom?
Does your bathroom door lock have an emergency release?
Do you test the water temperature before you get into the shower or bathtub?
Do you have non-slip surfaces in the tub or shower?
If you have any trouble getting on and off the toilet, do you have a raised toilet seat and a grab bar that is well anchored?
BIOS Medical has been taking care of Canadians' bathroom safety for over three generations. We sell bathroom safety equipment. Do you need bathroom safety products? Buy bathroom safety products online from BIOS Medical today. We focus on bathroom safety.