Collection: Home Medical Monitoring Devices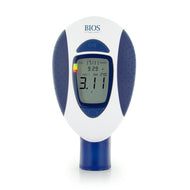 Peak Flow Meter for Asthma and COPD
Regular price

$115.99

Sale price

$115.99

Regular price

Unit price

per
Home medical monitoring devices exist to support you. They are designed to help you monitor specific conditions from the comfort of your home. As a home medical monitoring devices manufacturer, BIOS Medical provides you with a quality product that gives the most accurate reading possible.
To make your life easier, BIOS Medical offers the following home medical monitoring devices in Canada.
Blood pressure monitors
BIOS Medical introduced the first blood pressure monitor for home use in the early 1970's. Today, all our blood pressure monitors are digital and approved by Hypertension Canada. 
You can use our blood pressure monitors to determine your "real" average blood pressure over seven days. It assists your doctor in diagnosing your blood pressure correctly. 
Fever thermometers
As a fever thermometers manufacturer, BIOS Medical offers digital non-contact and contact fever thermometers. The non-contact BIOS Temp Scanner is a commercial-sized thermometer for use in the factory, office or school. 
Contact fever thermometers include an ovulation thermometer that tracks your ovulation with the accuracy of 100th of a Celsius degree. Other contact fever thermometers are used on the forehead or in the armpit, mouth, ear or rectum. All fever thermometers are Health Canada approved.
Asthma monitor
If you need an asthma monitor, consider the Microlife® asthma/COPD monitor. This high-quality medical device measures peak expiratory flow (PEF) and forced expiratory volume (FEV1) in one second.
Approved by the Asthma Society of Canada, this device is easy to use by children and adults. Manage one of the most common chronic diseases in Canada together with your doctor by using the asthma monitor. 
Pulse oximeter
Need a pulse oximeter to measure your oxygen saturation at home? Try one of three finger pulse oximeters available from BIOS Medical. All devices are Health Canada approved. 
BIOS Medical is a home medical monitoring devices manufacturer in Canada.  We hold a Health Canada Medical Device Establishment license and is ISO 13485:2016 MDSAP certified. Pay with PayPal, GPay or ShopPay when you buy home medical monitoring devices online today.